FAMILY NITE PROGRAMS
All Hands 2 Grow presentations are appropriate for the whole family. Many churches are adopting family nights or events that call for programming of an hour or more. Because of the physically challenging nature of puppetry, presentations of that length are difficult. To fill this need, Hands 2 Grow offers puppetry along with storytelling or a gameshow option called The Great Bible Challenge.
The Great Bible Challenge is a game that involves the whole family in reviewing basic Bible facts and concepts. Similar to a TV game show, teams answer questions dealing with Bible prophecies, history, places, men and women along with their significance in God's plan. Scores are kept with prizes for the winning team. The minimum playing time is 30 minutes.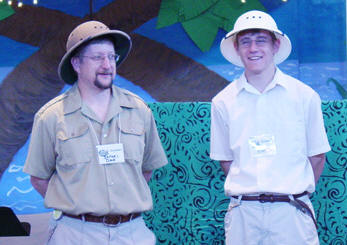 Other options for Family Nite programming include appropriate videos, sing-a-longs, crafts, or other options at the discretion of the planning group. We will be happy to work with you in planning your family event so that everything runs smoothly. Please note that because of copyright laws, Hands 2 Grow cannot show videos to groups.

BACK TO TOP